Meet The Women Who Are Changing The Tech World
February 1, 2023 Educate Girls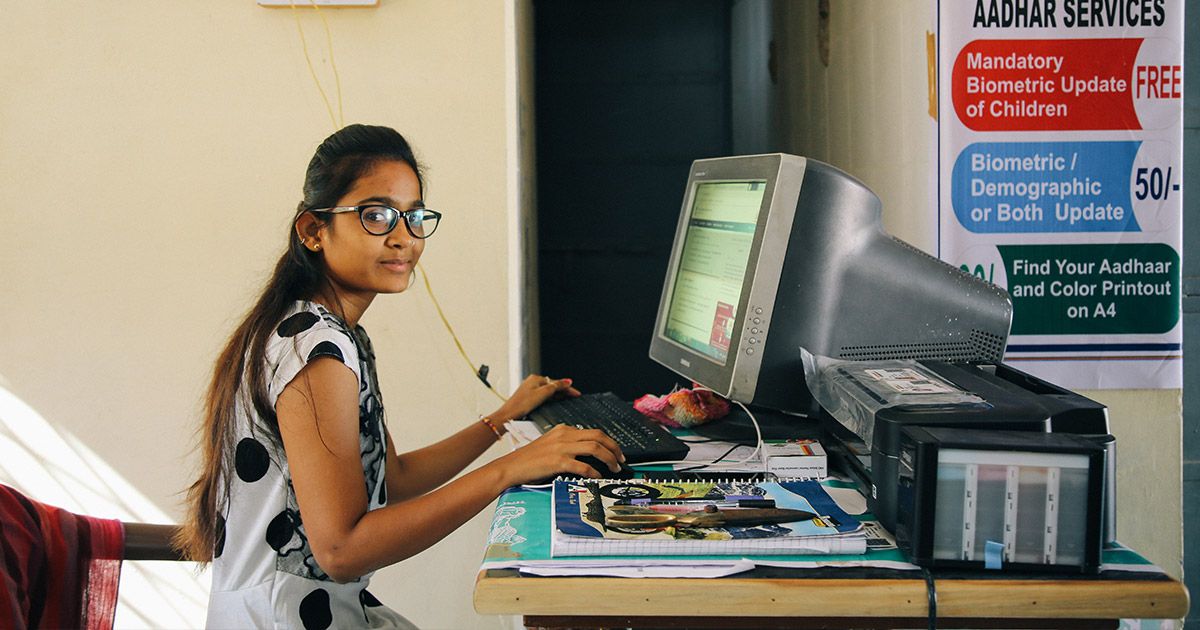 As per the 451Research, India has seen an increase in the number of women who are not only earning degrees in technology, but also building their careers in the same field. This has been possible because over the past several years, India has offered encouragement in terms of more courses and more colleges. Today, women make up 34% of the IT workforce and the majority of those are below the age of 30 years. If the comparison is to be made between men and women who are STEM graduates, it is almost 50-50 now. However, as per the report by Skillsoft, only single digit percentage holds executive level positions and of those, only 13% were at the highest positions.
Here are some of the women of Indian origin, who have not only made a name for themselves in the tech world, but also made a difference.
Roshni Nadar:
The only child of Shiv Nadar, found and owner of HCL technologies, Roshni is currently the chairperson of the company and the first woman to head a listed Indian IT company. She has not only ranked in the Forbes and Hurun lists, but has done an immense amount of work to encourage more girls and women to join the tech space. As one of the immensely successful women in technology, she is an inspiration to all girls to gain an education, allowing them to grow and reach great heights as well.
Debjani Ghosh:
A renowned name in the tech industry, Ghosh is currently the President of the National Association of Software & Services Companies (NASSCOM). She is the first woman to head the illustrious trade body and has been at the helm of Intel India and the Manufacturers' Association for Information Technology (MAIT) as well. Ghosh is a very strong believer in using technology to improve lives as well as creating jobs and it was this belief that pushed her into helping develop the 'Think Digital, Think India' strategy that is a pivotal point in India's digital transformation.
Deepa Mahadevan:
When you list the names of important women in technology, Deepa Mahadevan is a name that is sure to pop up – after earning a Bachelors degree in Economics and a Masters in Computer Science, she worked with tech giants like Deloitte. She eventually made her way to PayPal, where she is currently the Director, Global Data Governance and Regulatory Technology. She believes very strongly in women joining forces to ensure that everyone has a say in the decision-making process. she is also one of the forces behind Girls in Tech, which is a non-profit organization with a global presence and has its focus focused on providing education, and assisting in the empowerment and engagement of women in the world of technology.
Geetha Kannan:
Geetha Kannan can easily be labelled as one of the women leaders in technology domains – not only has she worked with renowned companies like Infosys and ANZ, she went onto take the leadership role at AnitaB.org. A global non-profit organisation, AnitaB.org was founded by Anita Borg and Telle Whitney and aims to offer chances of advancement to women in the world of technology, while offering recruitment and retention. A strong supporter of equal opportunities, her work towards earning opportunities for women started in 2006, when she conducted the first ever Women in Tech conference, eventually taking the idea to NASSCOM to increase the reach.
Ashwini Asokan:
When Ashwini quit her plush job at Silicon Valley to start Mad Street Den in Chennai, she was considered nothing short of crazy! Today, she has been labelled as an agent of change in STEM, because half her workforce comprises women and they have proven themselves as "retail disruptors". Her aim is to bring AI (artificial intelligence) to the forefront and use it to reach out to larger audience in not just the world of fashion, but also other e-commerce businesses. Her degree in interaction design from the prestigious Carnegie Mellon University helped her build the platform, Blox.ai, which is currently helping several domains including finance, healthcare and of course retail.
Upasana Taku:
When Upasana started MobiKwik in the year 2009, she intended to the take the e-wallet to a larger stage – at a time when small amount transactions like 10/- or 15/- , it was her forward thinking that led to the creation of one of the foremost payment methods of today. Her rise to becoming one of the leading women in technology started with her working in product management at PayPal. Today, her creation is helping transform the landscape of digital payments, all across India.
Nivruti Rai:
In 1994, when Rai started working for Intel, little would she have known that years later, she would be the head of the same organisation. Today, Nivruti Rai is the head of Intel India and is also the vice president for Intel Foundry Services, which helps train students in schools all over the country. A proper tech pundit, she has been applauded and honoured for not only her role in helping the world of technology grow (she has helped develop semiconductor chips that are extremely power efficient and are helping improve broadband connectivity), but also her contribution to women empowerment. Like Educate Girls, she too is someone who wishes to see more girls complete their education and become global leaders!
Reshma Saujani:
If we were to list the women who changed the tech world, we most certainly need to name Reshma Saujani – the creator of Girls Who Code! When she was joined the political race for the US Congress, she got to visit several schools and saw the obvious gender gap in computer classes. Today, this non-profit organisation is making huge strides in trying to close the gender gap in the world of technology. The mission remains simple – inspire, educate and equip women with computing skills that will allow them greater opportunities.
The role of women in technology can not be, and ideally, should not be questioned, because their talent is restricted only by lack of opportunities. At Educate Girls, we are constantly attempting to offer girls similar opportunities, allowing them to not only become independent, but also participating members in the society. 
Sources for stats and surveys:
https://go.451research.com/women-in-tech-india-employment-trends.html
https://s3.us-east-1.amazonaws.com/skillsoft.com/prod/images/Skillsofts-Women-in-Tech-Report-India-Region-Final-Mar-8.pdf
Educate Girls
Posted on February 1, 2023
Interested in contributing towards
educating girls?